This past Summer I got the dream job of styling five Serena and Lily shoots all in the most picturesque locations. But the best part is that I was able to travel all these places with some of my best friends who happen to be my crew mates for a lot of gigs. Claire Thomas was the director, Yayo Ahumada was the DP, and Leo Levy was lighting as well as camera assistant. As mentioned, I was the stylist for these shoots. The roles I had were incorporating Serena and Lily products into the homes, rearranging things to look better on camera, food styling, and last looks before shooting. These types of jobs really don't feel like work, especially when I get to do them with friends.
Castine, Maine
We started our road trip in Castine, Maine, the cutest little waterfront town I've ever been to. In Castine we were shooting at Interior Designer, Loi Thai's home. Loi and his husband, Tom, have the most charming home with beautiful views and the most robust garden I've ever seen. Some highlights of Castine were the meals. I ate my weight in lobster and oysters and enjoyed some dinners full of Prosecco and great conversations. One of my favorite meals was at the Pentagoet Inn (this is THE Inn to stay at if you visit Castine). I know this is a place I will return to for the rest of my life. After Castine, we drove through Maine and visited some antique shops and ate more lobster rolls.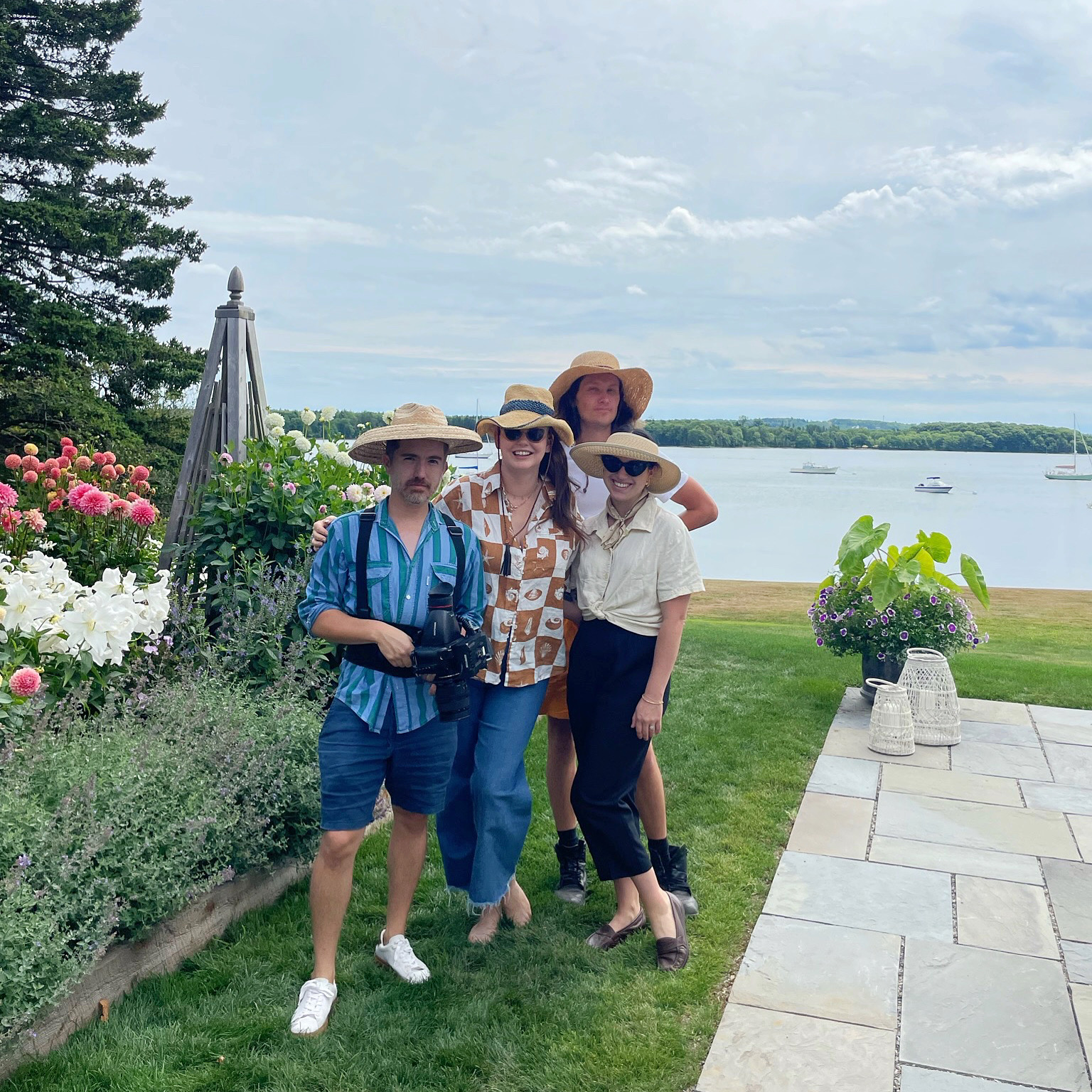 Hudson River, New York
Next, we drove down to the most beautiful neighborhood on the Hudson River just across from New York City. This is actually a home I'm decorating and assisting the design for under the direction of Claire Thomas. This is Bryce Dallas Howard's New York home. Claire and I also worked on her Los Angeles home which was featured by Arch Digest earlier in the year. We did a small Serena and Lily shoot in her kitchen and dining room and Claire and I caught up with contractors to oversee renovations.
Philadelphia, Pennsylvania
After New York, we headed to Philadelphia and had Christmas in August at Neely Burch's home (co-owner Neely and Chloe). Her home was stunning and I had so much fun creating a holiday bar cart and festive, cozy living room.
Washington DC, Virginia, and North Carolina
On our journey to North Carolina we made some stops in DC and Charlottesville. In DC we checked out the Georgetown area and in Charlottesville we went to Monticello and had an insanely good dinner. Our final destination on this road trip was Conover, North Carloina to shoot at the manufacturing plant that makes all of Serena and Lily's custom upholstery pieces
Napa, Sacramento, and San Francisco
About a month after our East Coast road trip we travelled up to Northern California to shoot at a vineyard in Napa. The views and the wine were so delicious and it was a great end to an amazing Summer. After Napa, Brandon and I had our own mini trip in San Francisco and Sacramento.