If you follow me on Instagram then you know I have been working on a very exciting and personal project over the past year. It's kind of a long story so let me start at the beginning. My fiancé, Brandon, and I have been together for over eight years. Brandon grew up in Dallas, TX but his parents are originally from Des Moines, IA. Brandon's dad, Tom, and his eight siblings grew up on a beautiful property in a 1940's home. Tom's parents (Brandon's grandparents), Dick and Mary Ann Pertzborn built the house in 1948 and lived in it with their nine kids their entire life. Brandon took me to Iowa to meet all the Pertzborns and visit this home in 2018. I fell in love with Des Moines as well as his grandfather's home and property. I pointed out all the Mid Century detail that Brandon had never really noticed, and his appreciation for the home he spent childhood Summers in grew even larger. I made a YouTube video documenting this first visit with archival footage of the Pertzborn family from the 60s.
In the following years I visited Des Moines a few more times and my love for the city grew bigger each time. This city has everything I love (vintage shops, amazing restaurants/bars, a thriving small business scene, and sprawling bike trails). But the Pertzborn property was at the heart of everything I loved about the city. While only being 10 minutes from downtown, there is a peace on this land that I rarely get to experience in Los Angeles. People are a bit nicer, the nature is a bit greener, and the city has an exciting up and coming feeling to it. At the end of 2020, Brandon's grandfather passed peacefully of old age. After much consideration, we decided to purchase the home with Brandon's parents to preserve the legacy, archive the family history, and for our future children/grandchildren to enjoy. We couldn't let this property get into the hands of a developer who would most likely tear the house down and build 10 new ones in its place.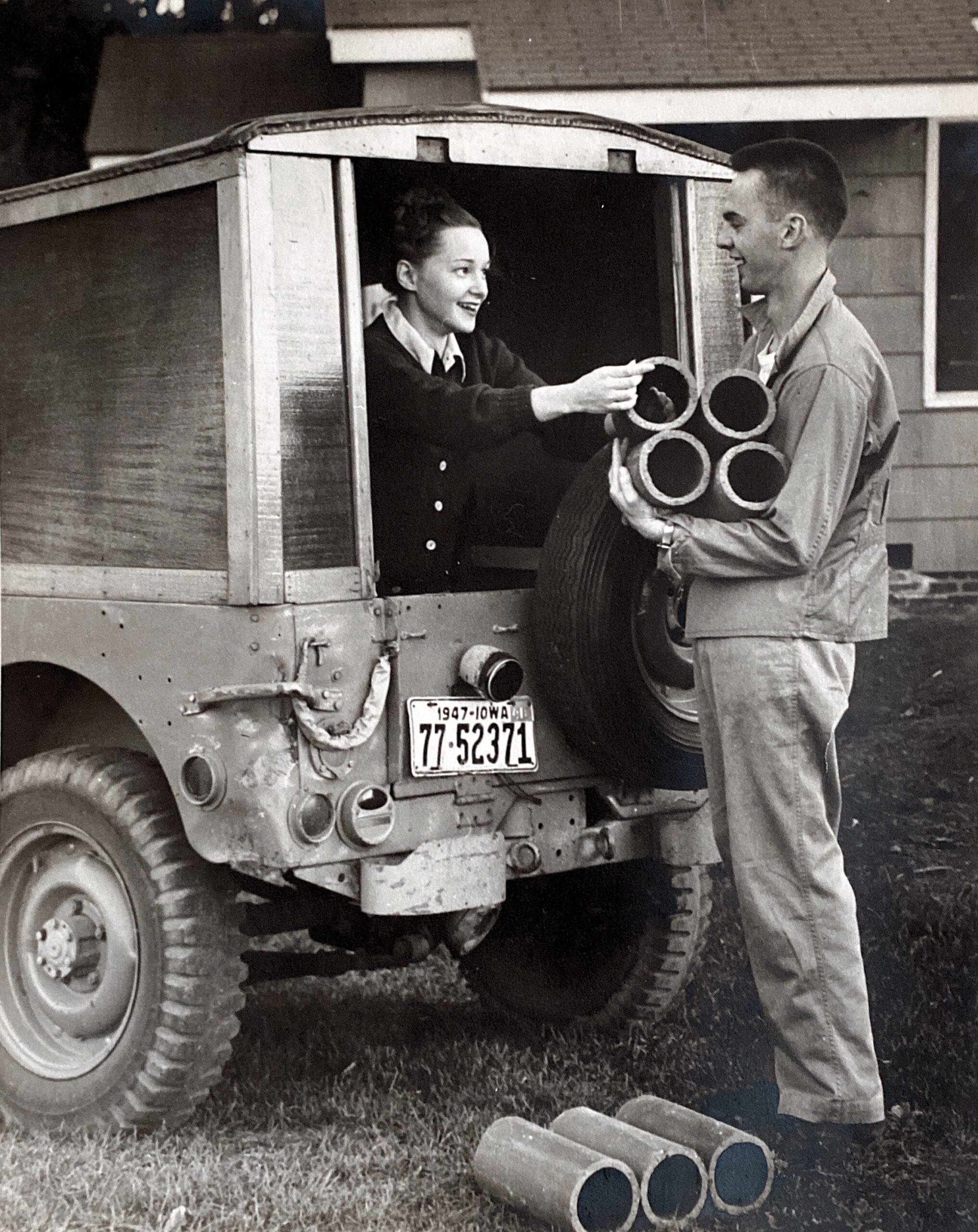 Over the years the home lost its 1940's charm and we are literally and figuratively peeling back all the layers to restore it to its original era. When complete, the home will have 3 bedrooms, 3 full baths, 3 half baths, a 1970s style game room/lounge, a tiki bar, a children's playroom, and a Dorothy Draper inspired Boudoir. The property is 4 acres and we have a large pool built by the eldest Pertzborn sons, gardens, and in the future we will be adding vegetable gardens, a chicken coop, a barn for weddings, and much more! We will be listing the home on Airbnb by the end of Summer 2022. The house can sleep up to 10 guests and is the perfect place to host an event.
We are all taking an extremely hands on approach to the restoration of this home. Tom has been a jack of all trades and has taken on so much responsibility in the renovation, along with designing the home I have been painting, wallpapering, and gardening like a mad woman (with the help of Brandon's mom, Cindy and my mom Ann), and Brandon has become a tile master. No seriously he's installing all the tile in the home and is absolutely KILLING it. I'm so proud of him.
When designing the home I pulled a ton of references from my two biggest design inspirations, Bunny Mellon and Sister Parish. Both of these talented women attended the same boarding school, Foxcroft, which is how I came up with the name Foxcroft Estate. The main floor is very inspired by these ladies and has a mixture of 1940s design, Art Deco touches, and classic American country style. The basement was dug out in the 60s and so I decided to keep the inspiration era appropriate of that time period. We have a colorful basement lounge room in the works as well as a fully functioning tiki bar, plus tons of other bonus rooms!
We are in the home stretch of getting this home done! Please stay tuned for more updates and reveals in the coming months. I want to give a huge thank you to all of the amazing brands who are partnering with us on our home: APT 2B, Fireclay Tile, Signature Hardware, Farrow and Ball, Framebridge, Lightology, Mitzi Lighting, Rejuvenation, Bradbury Wallpaper, August Abode, Big Chill Appliances, Heather Taylor Home, The Picker Knows, Many Hands Thrift Store, Lenox, Novogratz, Simplisafe, and many more!
Follow along at the Foxcroft Estate Instagram page!