Welcome to one of my favorite rooms at Foxcroft Estate, The Oak Spring Room. This room was heavily influenced by two of my favorite designers of the 20th century, Bunny Mellon and Sister Parish. Oak Spring is actually the name of Bunny Mellon's Virgina estate. Below I share an original mood board for the space. We weren't always planning on having two twin beds but because of the window placement and the fact that this is an Airbnb, we figured twin beds might be more beneficial! This room is filled with florals, quilts, gingham, and stripes! One of the best things about this room is that it boasts views of our beautiful 4 acre property including our walnut trees. Keep reading for details about everything in this room.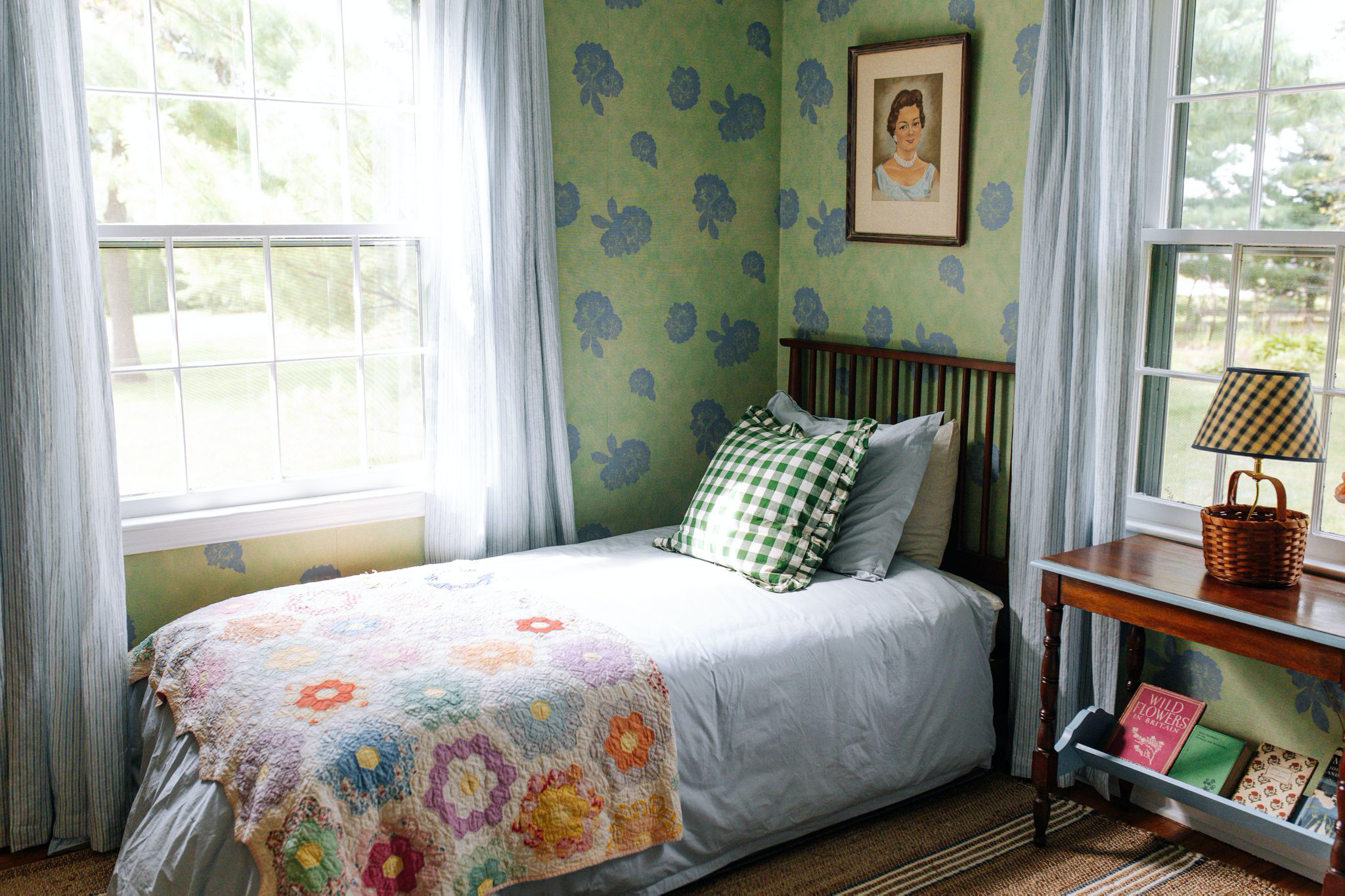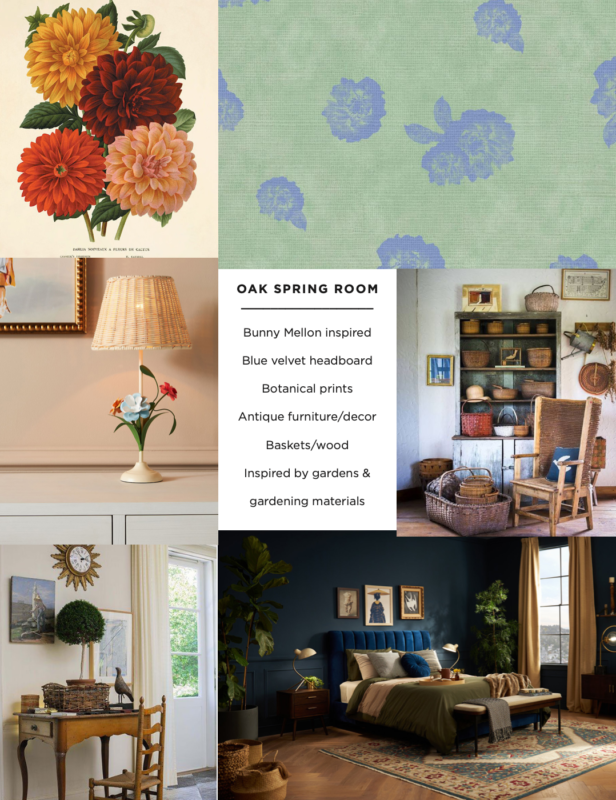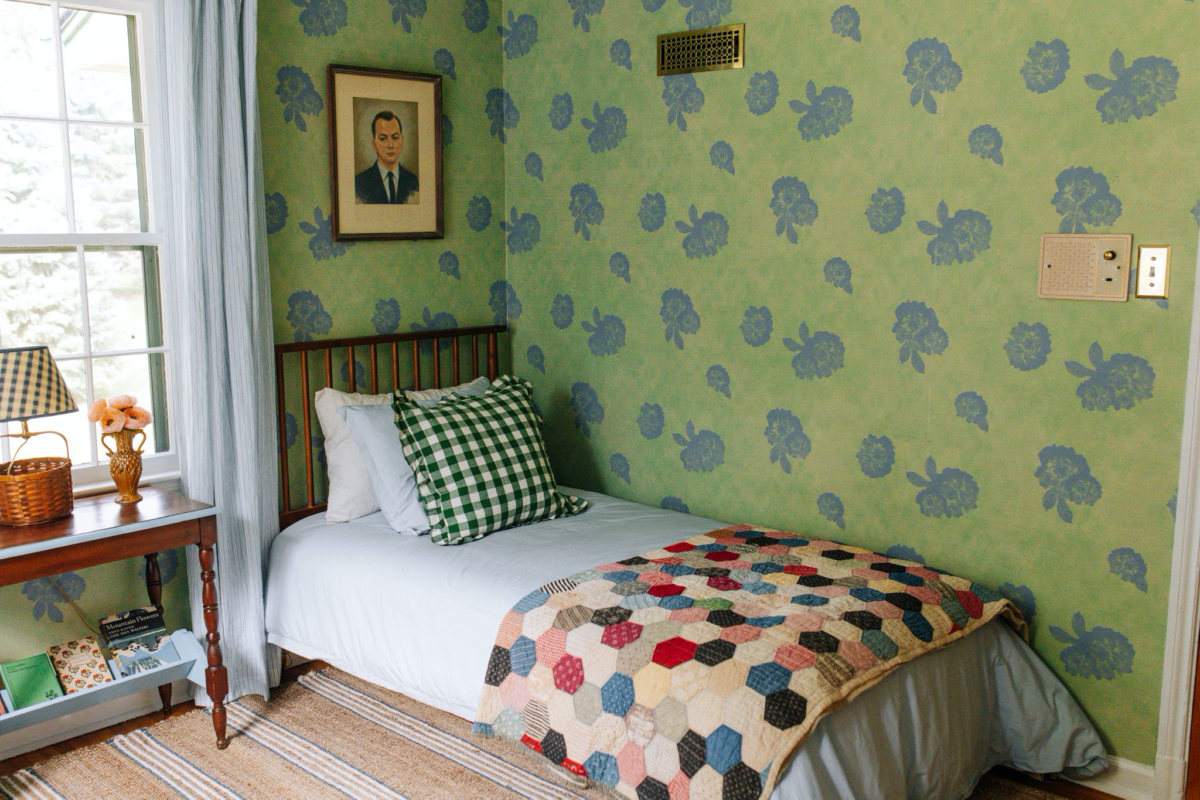 Wallpaper:
The thick grasscloth wallpaper in this room is August Abode's Lancaster wallpaper in the color way "Drawing Room." The quality of this wallpaper is impeccable and adds so much color, pattern, and texture to the room. This was the first room I ever wallpapered and it was extremely difficult because of the thickness of the paper. There are some minor flaws in my application, but honestly they aren't too noticeable and add a bit of character.
Bedding:
All of the bedding and towels in our home are from a brand called Under The Canopy. They have the softest and coziest sheets and duvet covers. In this room we have two antique quilts from a local shop called The Des Moines Mercantile.
Decor:
Pretty much everything in this room is vintage and was either purchased locally or was from my personal collection. The portraits above the bed are of Brandon's grandparents painted in the 50's. The paper flowers were all made by me and were so much fun to make! The drapes in this room are Heather Taylor Home for West Elm.
Lighting:
This gorgeous chandelier is from Mitzi, who we worked with on most of the house. I love that this piece modernizes the space a bit and makes it a little more quirky. The wicker and gingham lamp on the bedside table is a vintage find!
Paint:
The ceiling paint is from Farrow and Ball. I wanted the ceiling to feel like a sky so we used this serene blue called "Skylight." I really think this made a huge impact on the overall feel of the room.