Welcome to the kitchen at Foxcroft Estate! This room underwent a MAJOR transformation. You can watch my YouTube tour of the home for more details and videos of the process! This kitchen is equal parts Mid-Century and country cottage giving it a unique feel that I haven't come across very often! We wanted to keep everything original from the 50s, so we kept the cabinets and wood paneling in tact. My husband Brandon also meticulously restored the backsplash tile that had been covered by different tile in 80s or 90s. The color scheme is red, yellow, and green with a cherry and checkerboard motif. This is my favorite kitchen to cook in and it can be yours too if you book a stay via Airbnb! Keep reading for details on everything in this space!
Paint:
We used Farrow and Ball paint through out the entire house. In this space we used the color "Green Ground" on the wood paneling and the colors "Wevet" and "Duck Green" on the wood paneling underneath the island for a 1930s Beverly Hills Hotel vibe.
Furniture:
The leather chairs surrounding our counters are from Apt2B. I love that they feel timeless and help make this space feel era ambiguous. We also have these same chairs surrounding our dining table.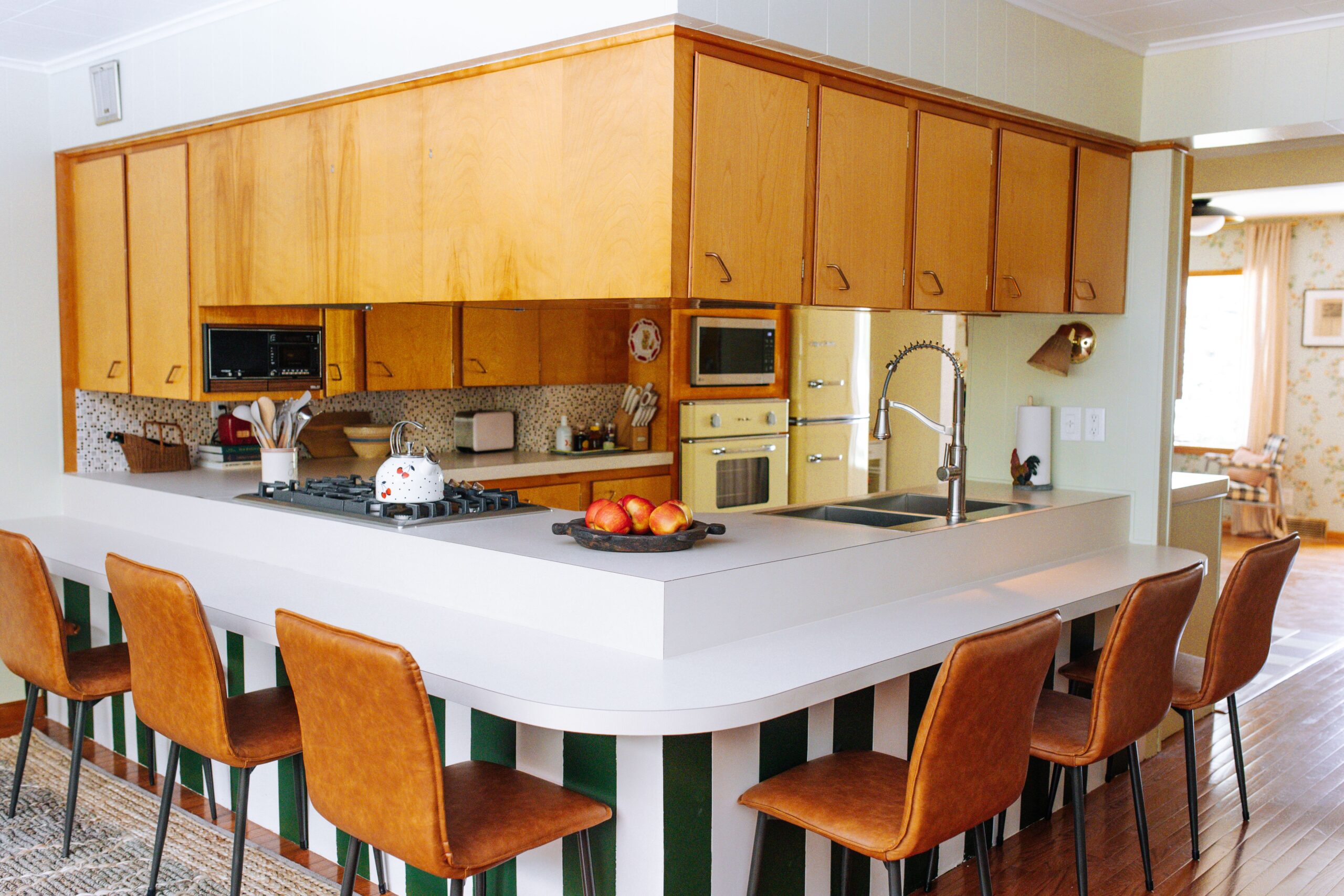 Tile:
All the tile throughout our home is from Fireclay Tile. In the kitchen we went with a checkerboard pattern using the colors "Vintage Leather" and "Daisy."
Wallpaper:
This cherry wallpaper (named Foxcroft after us!) is from Bradbury's 1940's collection (4D-125). Although this wall is so tiny and only took a few hours to wallpaper – this statement wallpaper makes a huge impact on the space.
Appliances:
Believe it or not all of the appliances are new! We got these vintage inspired pieces from Big Chill's Retro collection in the color "Buttercup Yellow." These appliances made the kitchen look genuinely vintage and I can't imagine this room without them! Our toaster and tea kettle are both from Lenox's Kate Spade collection.
Plumbing Fixtures:
The stainless steel sink and faucet are both from Signature Hardware who outfitted our entire home with top of the line plumbing fixtures. This sink was originally black, so switching to stainless modernized the space in a good way and made the whole room feel much more high end.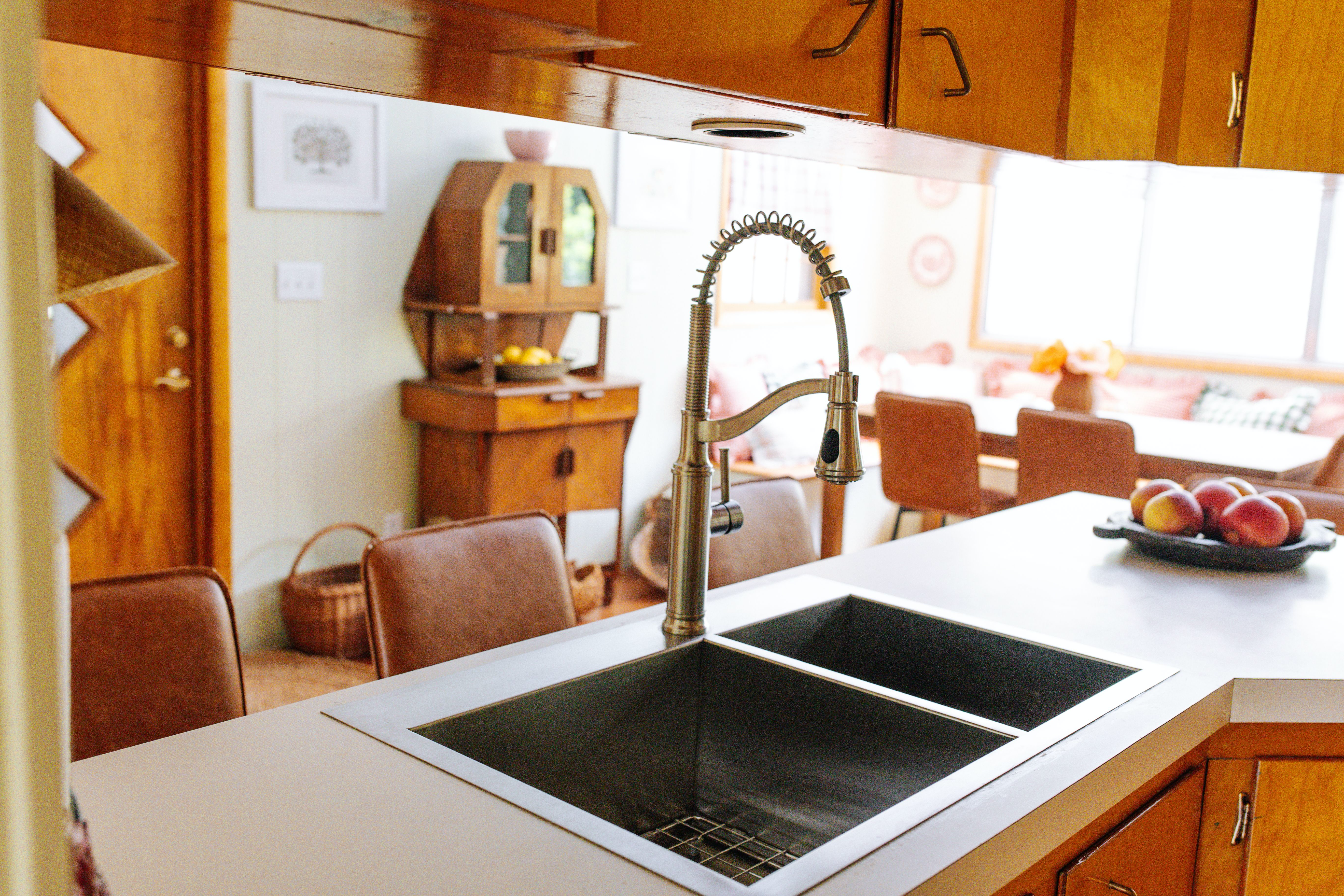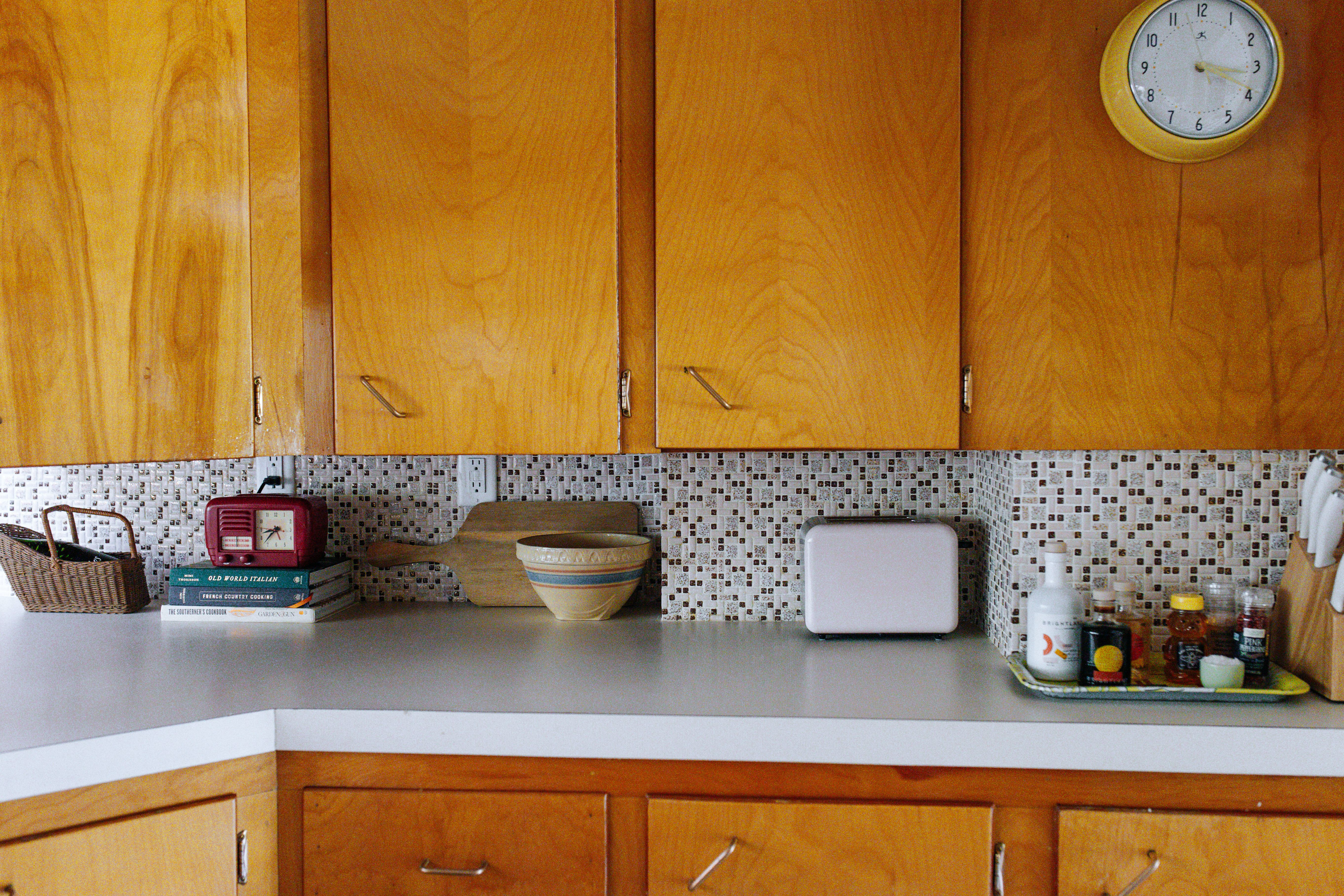 Extras:
Our kitchen is stocked full of everything you could need to make a gourmet meal or to entertain for a party or holiday. We have Great Jones cook/bakeware, pantry staples including Brightland Olive Oil and Vinegars, servingware from Lenox, and linens from Heather Taylor Home. All of the decor in this room is vintage and was purchased locally in Des Moines (mostly from The Picker Knows). Additionally, we have tons of cookbooks both new and old!