The Bridal Suite at Foxcroft Estate is so near and dear to my heart. For starters, I designed/worked on it while planning my own wedding. It was also an amazing way to showcase some of Dick and Mary Ann's (Brandon's grandparents and original owners of the house) wedding photos and ephemera. The thought process behind this room was that it would be a great place for a bride to take getting ready photos or even engagement photos. It also would be a super cute room to have a bridal shower in. Unrelated to weddings, it's such a fun girly room that is great for photo shoots of all kinds.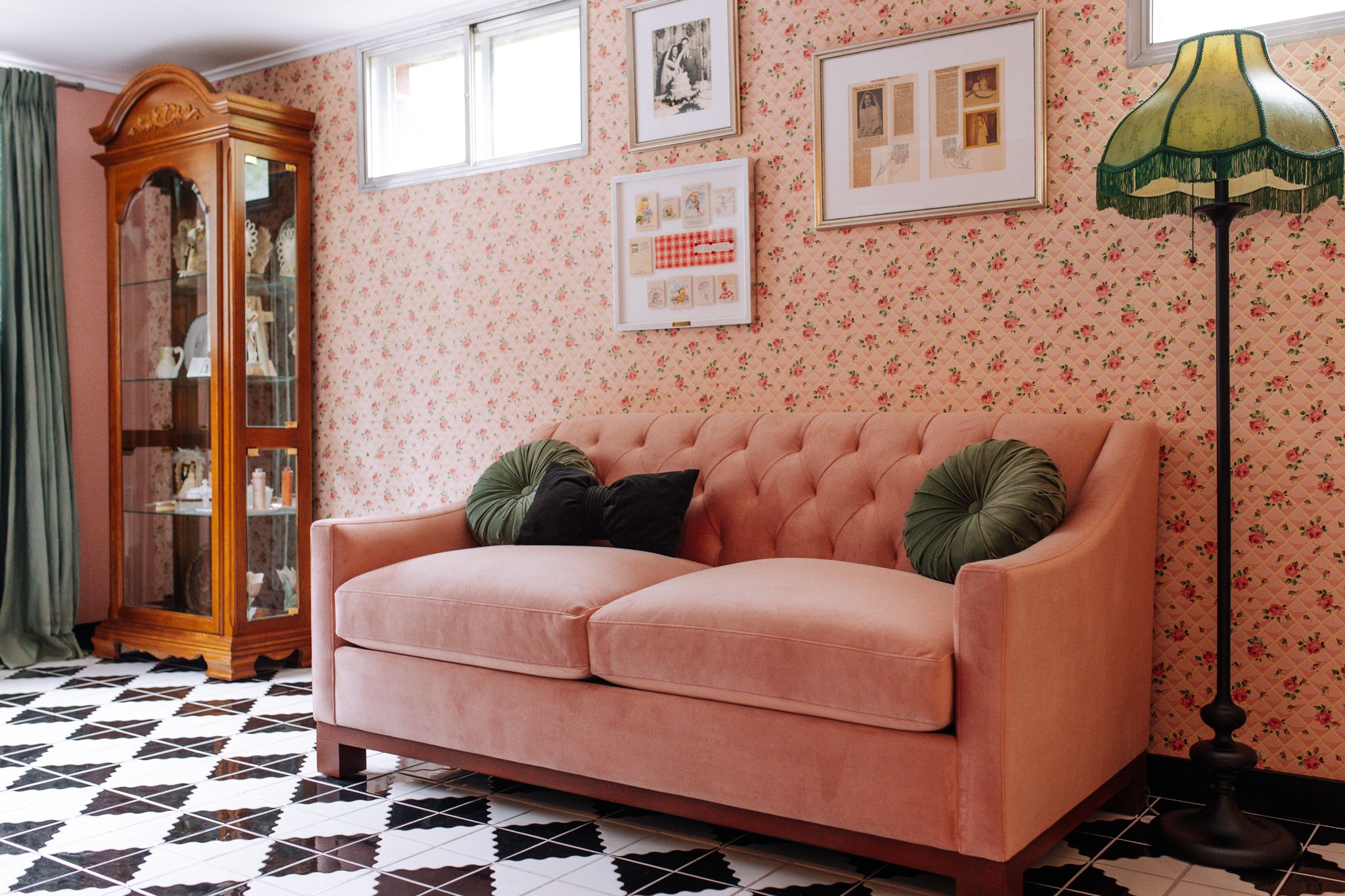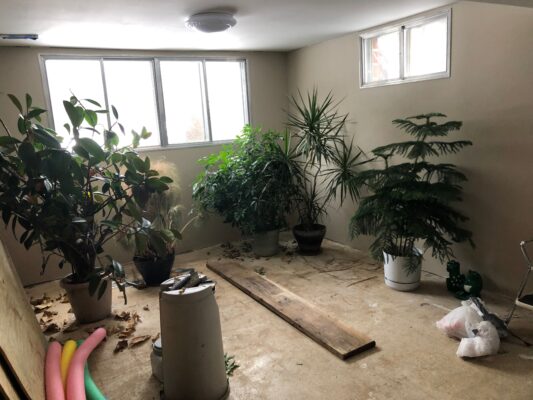 Tile:
The main inspiration for this room was Dorothy Draper's design work for the Greenbrier Hotel. One of the classic design elements the hotel is known for are their black and white checkerboard floors. I wanted to achieve that look but with a twist so I chose Fireclay's Squiggle Tile in Charcoal Motif. The squiggle detail makes the floor a bit more whimsical, exciting, and unexpected.
Wallpaper:
The rose wallpaper is Bradbury's "Betsey" from their 1940's collection. The diamond lattice pattern on the wallpaper mimics the diamond pattern of the floor and the roses soften up the contrasting bold tile. Originally, the color scheme was just black, white, and pink, but when I saw the green in the wallpaper I decided to add a few pops of green as well. Pink and green is my all time favorite color combo, so I gravitate towards it often!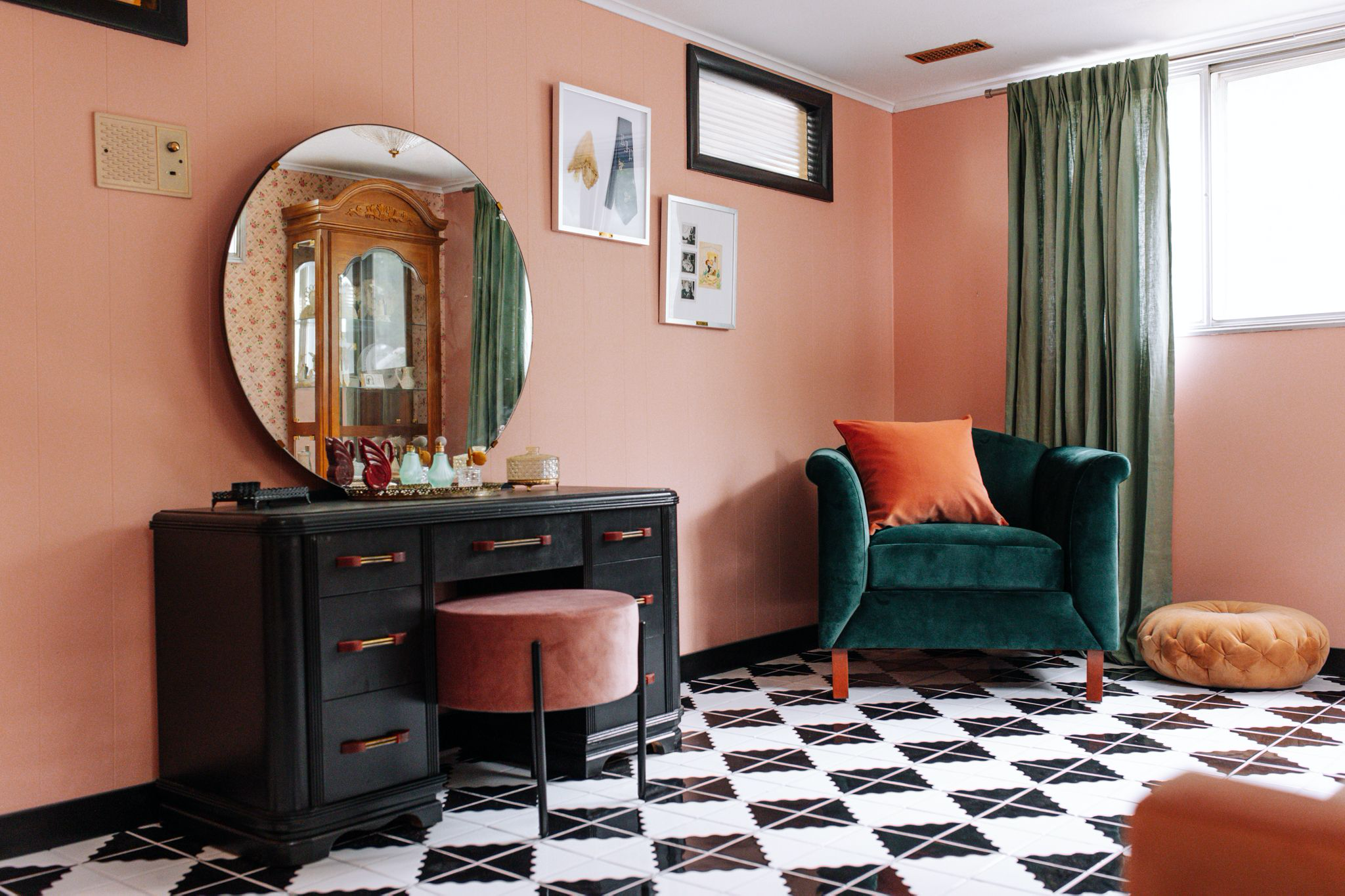 Lighting:
The overhead lights are from Lightology and look like little upside down crystal umbrellas. I love the elegance these lights add to the space. The floor lamp is from Target with a vintage victorian style lampshade.
Furniture:
All of the furniture, except for the Art Deco vanity and display cabinet, is from Apt 2B. The pink sofa is a pull out bed, making this a 4th bedroom in the house! The vanity was purchased locally from The Picker Knows. It was a bit beat up, but my plan was to paint it black anyways. Now it looks good as new! The display cabinet belonged to Brandon's grandparents and was originally in their living room.
Decor and Drapes:
We partnered with Framebridge to custom frame some of Dick and Mary Ann's adorable wedding photos and ephemera. We framed newspaper clippings announcing their marriage, the invitation to her bridal shower as well as cards she received, his tie and her hankie used the day of their wedding, and some beautiful photos. All of the knick knacks around the room are vintage. The mother of pearl cross in the cabinet was given to Dick and Mary Ann for their wedding. The green drapes were custom made by The Drape. I love that they're floor to ceiling, elongating a basement room with low ceilings.