On October 8, 2022 I married my best friend and partner of 8.5 years, Brandon Pertzborn. Brandon proposed in November of 2021 at Disneyland in the same spot where we took our first photo together in 2014. We had an extremely small wedding in the Mural Room at the Santa Barbara Courthouse with our immediate families. Brandon and I both love vintage architecture and Brandon has a strong love for vintage tile so the Santa Barbara Courthouse was an easy pick. I also lived in Santa Barbara when I was a toddler, so some of my first memories take place in this beautiful town which makes it even more special to me. We stayed at the Palihouse Santa Barbara and had our reception dinner at Stella Mare's. It was one of the most happy and beautiful days of my life and I will treasure these photos and this day for the rest of my life. All of our wedding photos were taken by one of my best friends, the ever so talented, Casey Liu.
The Bouquet:
My bouquet was created by Los Angeles floral designer, Yasmine Khatib. I've loved Yasmine's work for years and am so grateful that she was able to create such a gorgeous arrangement for me. I had multiple people tell me this was the biggest bouquet they've ever seen and boy was it heavy haha!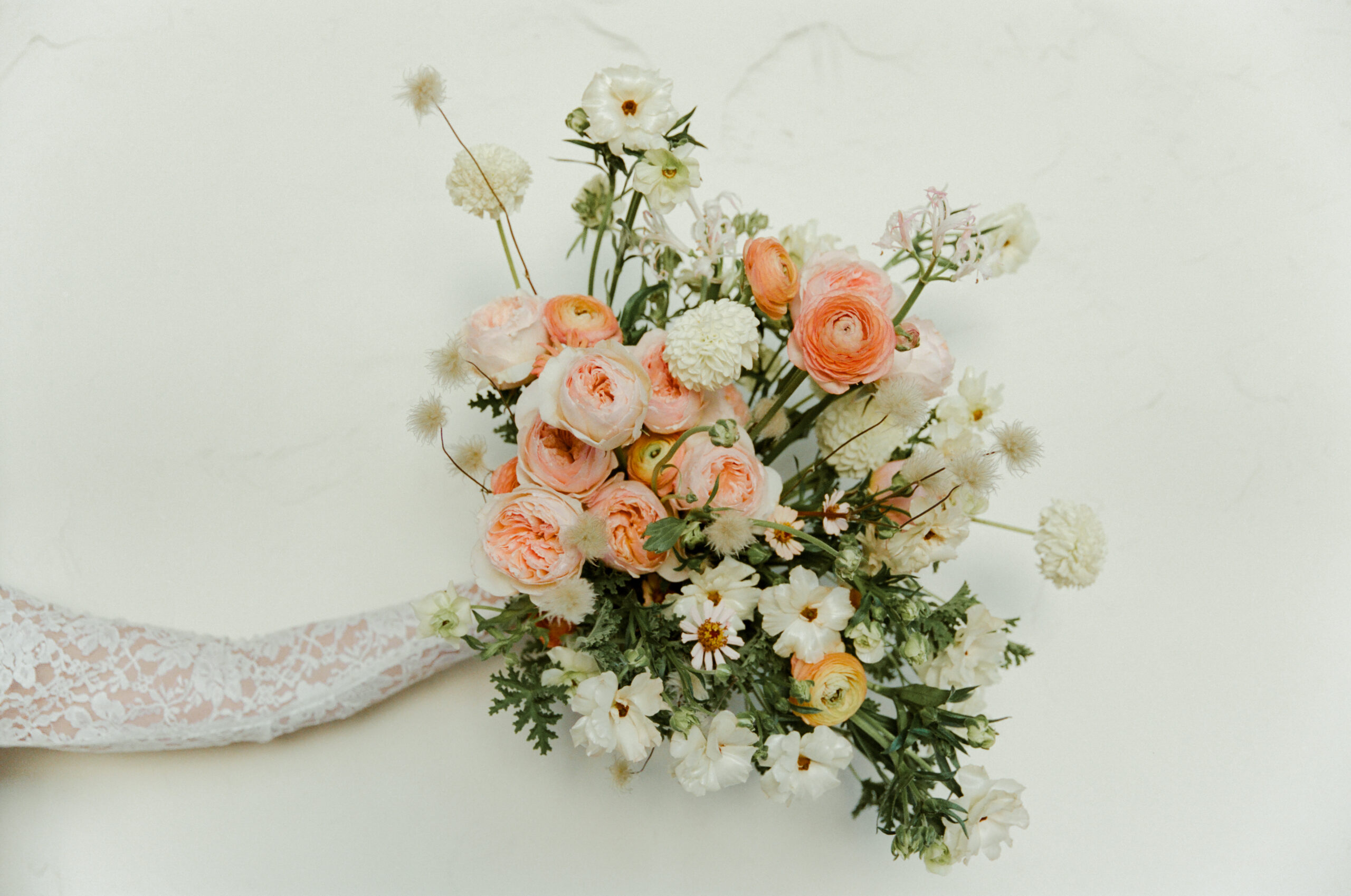 I spent our wedding morning with my mom, sister, mother-in-law, and sister-in-law in our Palihouse hotel room. I used Santa Barbara Bridal for my hair and makeup and they did an incredible job! My hair inspiration was Priscilla Presley's wedding hair and the makeup was a combination of a few different 1950s and 60s references. I felt beautiful and also natural and "like me" which was exactly what I wanted. My peignoir set is vintage and was gifted to me by mother-in-law. My Mom gifted me with a beautiful string of vintage pearls which I wore all day.
Something Old: My dress, veil, clutch, pearls, and ring.
Something New: My heels and sunglasses.
Something Borrowed: My mother's garter from 1992.
Something Blue: My mother's garter and my peignoir set.
The Ring:
My ring is vintage from the 1930s. This was my dream ring and I've been eyeing this style for years.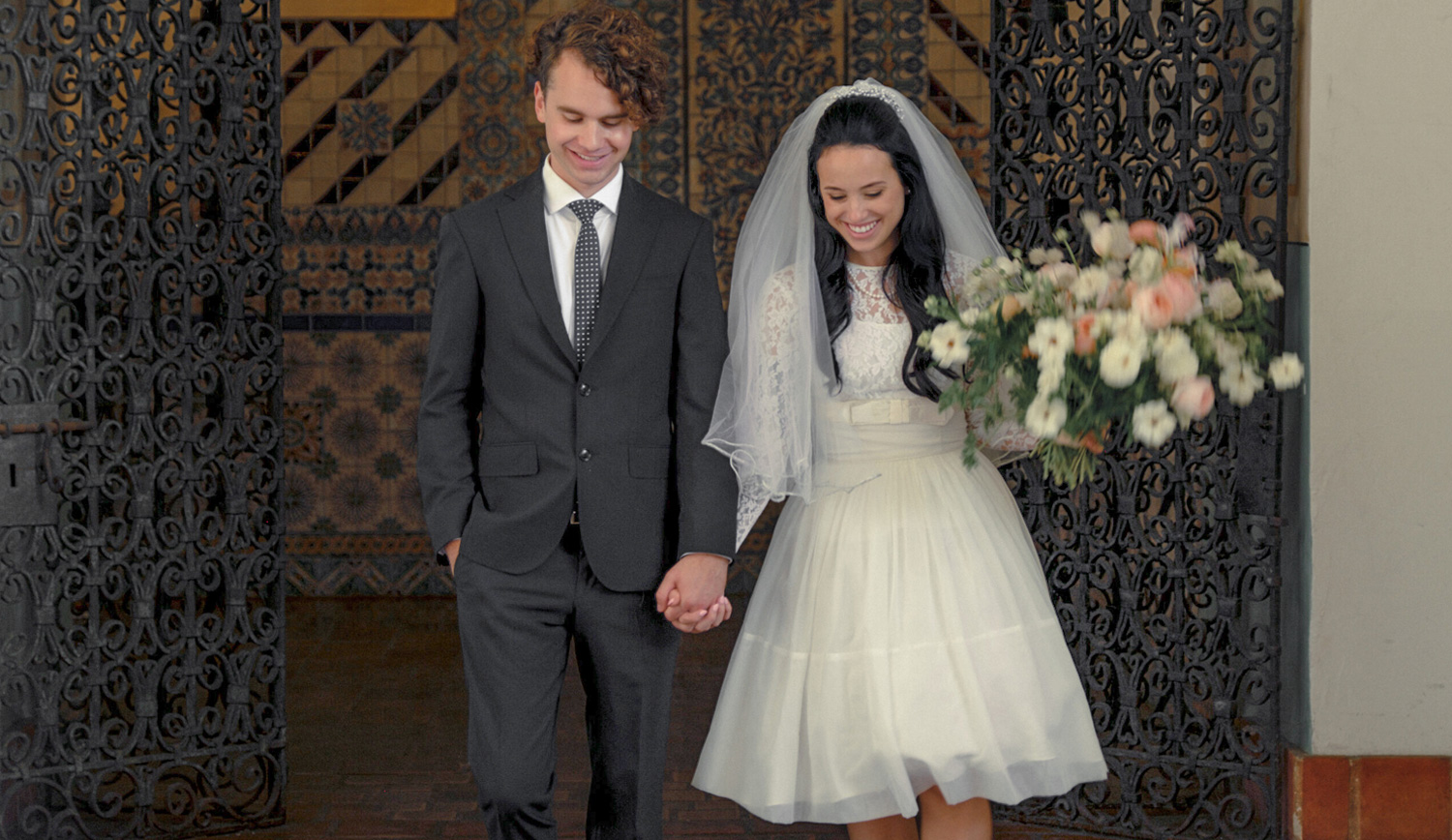 The Dresses:
My dress, veil, and clutch are vintage and were purchased from an antique shop in Des Moines, IA called Funky Finds. I really don't think there was a better dress out there for me, it fit like a glove and gave me all the feels a bride should experience on her wedding day. My reception dress was a pale yellow 1950's tea-length gown from Elsewhere Vintage. I wanted something a bit looser on the waist so I could enjoy my dinner, I also was afraid of staining my wedding dress!
The Cake:
All of our desserts were supplied by my dear friend, Claire Thomas, and her bakeshop called Sweet Laurel. We had a chocolate cake, a lemon coconut cake, and an apple pie! I displayed them on some of my vintage cake plates.
The Honeymoon:
We left the morning after our wedding and headed to New Orleans. In New Orleans we rented a car and road tripped through Savannah, GA, The Carolinas, Virginia and West Virginia (with a stop at The Greenbrier!), and ended our trip in Washington, DC. We visited tons of historic sights and ate so much delicious food. It went by way too fast and was the most fun I've ever had!