Basements can either be some of the creepiest or some of the coziest places in our home, I'm here today to share how to make your basement as beautiful and comfortable as your ground floor! Before we renovated the basement at Foxcroft Estate in Des Moines, IA, it was essentially unfinished. There had a been a flood in there years ago, so everything felt very cold, damp, and creepy. We gave this space a complete overhaul and 99% of the work was DIY, so it's possible you can get your unfinished basement feeling this cozy as well! Our basement is comprised of 4 rooms, a bathroom, and a half bath. Two of the rooms (the tiki bar and bridal suite) have great natural light and have windows out into the backyard – because of this, they were easy to make beautiful. The other two rooms were a bit more of a challenge. I'm from (and still live) in Los Angeles so I am not used to basements and have never had to design or decorate a basement, so this was a totally new experience for me. Ultimately, I came up with a plan that my husband and father-in-law helped me execute perfectly! Let's dive into my top tips!
Number One: Color!
It's honestly amazing what color can do. This was the ongoing joke during the renovation process – every time we painted a room the transformation was mind boggling. Neutrals are having their moment right now, but that's a trend that is not for me. Don't get me wrong, I love black and white pairings but I love throwing in an accent color like pink (executed in our bridal suite) or green (executed in the primary bath). With that being said, I knew we had to throw a lot of color at these two dark basement rooms. We turned the smallest room in the basement into a children's playroom. I can't think of a room that would be more important to be full of color – no kid wants to play in a dark neutral room. I went all out with a blue, pink, and yellow color scheme. With multiple colors (plus wallpaper!) on the walls there is so much visual interest. We also used Flor Carpet Squares in a gorgeous mustard color for the flooring, which added visual and textural warmth. The large basement living room space was a bit more of a challenge – this room was so dark and also so big, so I knew we had to do something really special and fun. I landed on a 1970's color scheme of pink, green, yellow, and orange. Everything in this room is loud and colorful – an orange sectional and mustard velvet chairs from Apt2B, a patterned shag rug from Flor, a mustard velvet curtain wall from The Drape, a 1960's patterned wallpaper from Bradbury, and a mural made by my mom and me. Not to mention- we painted the staircase risers using the same paint used in our mural! As the room was coming together I started to get worried that maybe it was a bit too much, but because of the size of this room I think it was just the right amount of quirkiness!
Number Two: Lighting
The most obvious way to brighten up a dark room? Light! I think most people go wrong with basements when they depend on primarily overhead lights. I despise overhead lighting in most situations, so I knew lamp lights and pendants were going to be the main light sources. We partnered with Mitzi on all the lighting in this room – we used fun Mid-Century style table and floor lamps, pink fridge pendants, and an overhead chandelier above the game table. Additionally, we have a vintage Siamese cat TV lamp and a neon sign from Yellow Pop. With lights at so many different levels and warm/pink temperatures – this room feels so cozy and moody!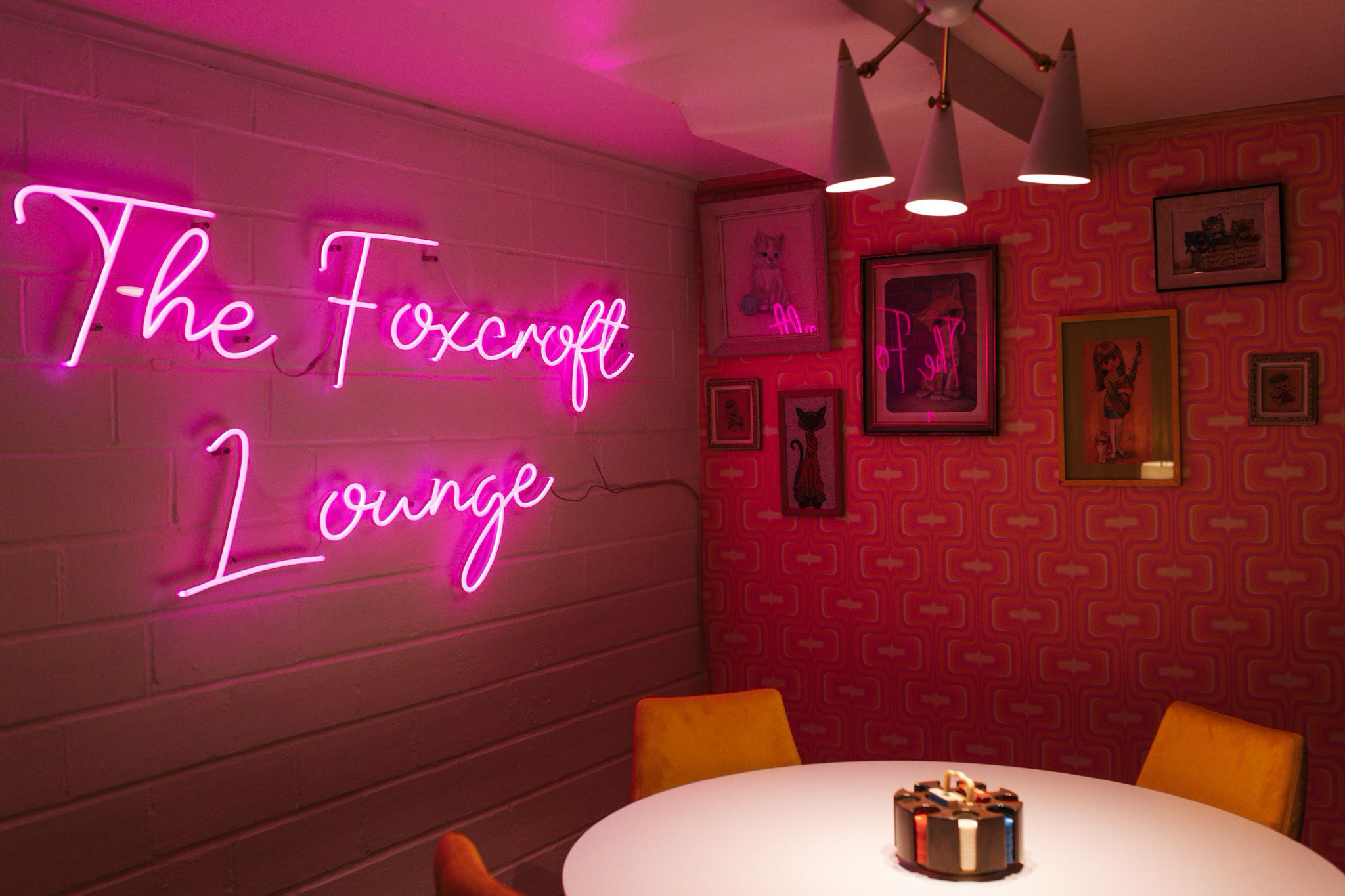 Number Three: Texture
Originally, the plan was to do wall to wall shag carpet in a bright color. This ended up being a bit over our budget so we tried to come up with a creative solution to utilize the existing flooring (cement). Cement floors sound like possibly the worst flooring choice for a basement, but with some heavy duty sanding and sealing we got these floors looking like a a chic Mid-Century home. As mentioned, we used a Flor shag area rug which brought in so much texture as well as a pink circular shag rug under the game table. I wanted this to be a space where kids would feel comfortable sitting on the floor and watching a movie, so we also utilized tons of floor pillows and bean bag chairs in various colors and textures. Additionally, we used velvet in multiple spaces which not only reflects light beautifully but also feels soft and cozy – our sectional, game chairs, and curtain wall are all plush and luxurious. In the playroom we also utilized texture by adding a fort with tons of pillows and blankets.
Number Four: Art
Don't skimp on fun art in your basement! Bare walls feel sad and uncared for. Create a gallery wall to add more color and personality to your basement walls. I see a lot of basements that lack the same personality the owner's showcase in their main floors. This makes these rooms feel like an after thought, and there's no reason for that! You can find very cheap and unique art at thrift shops and antique stores. All of the art in the basement rooms is second hand and full of personality.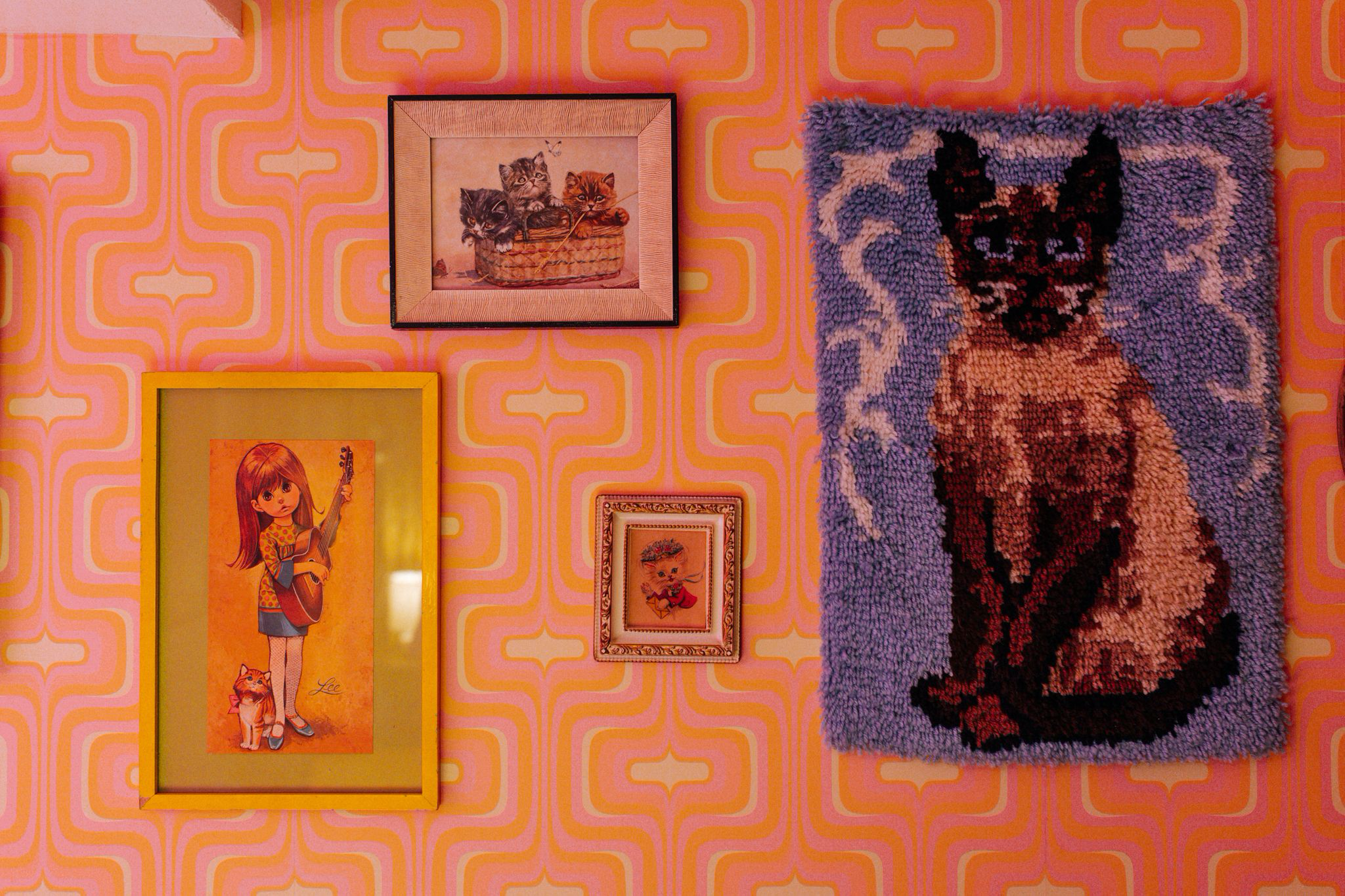 Number Five: Unique Flooring
As mentioned, the back half of our basement gets a lot of natural light and has a door going out to the backyard and pool area. I wanted guests to be able to go in and out of this door on Summer days to grab a drink from our tiki bar or use the restroom. Therefore, tile seemed like the best waterproof option for these spaces. Our hallway features gorgeous Fireclay matte tiles in the color "Dawn," and our tiki bar has Fireclay's scalene shaped tiles in the colors "Desert Bloom" and "Limon." The mustard Flor carpet squares and sealed cement floors are also very unique and give each room their own vibe.
I hope these ideas help you warm up your basement! Don't make your basement an afterthought – it may just become your favorite room in the house! Check out Apt2B for beautiful upholstered pieces that will help you cozy up any space!