Last month, I had the dream job of working as a set designer for a Benefit Cosmetics commercial! I was brought on by Claire Thomas who was the director. Her vision was to create a pink technicolor musical and I think we accomplished just that. My two big tasks were to create a 1940s style vanity set up inspired by the Rita Hayworth movie "Covergirl" (1944), and to create a crystal chandelier with Benefit's "Gimme Brow" affixed.
Another technical thing I had to manage was the actress popping out of a big "Gimme Brow" box (think Debbie Reynolds coming out of the cake in Singing in The Rain). I had to create a paper top that can easily be ripped so that when she pops up it looks like the top of the box is breaking. As she came out of the box I was underneath her with a leaf blower blowing up confetti. Being a set designer, there are a lot of random technical things to plan, not just making sure the set in beautiful. I also managed wardrobe and last looks for each scene.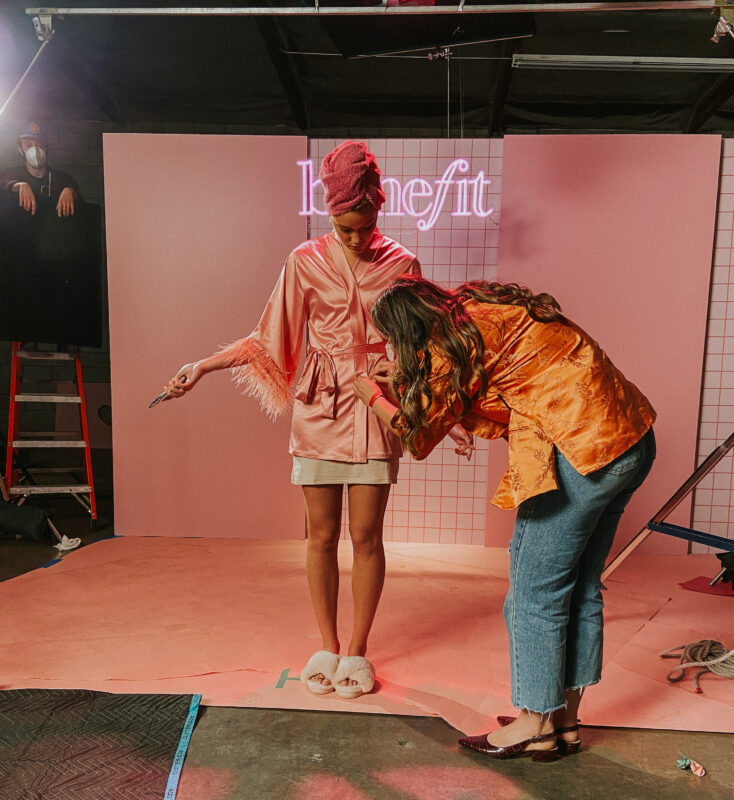 For the chandelier scene, we rented a beautiful crystal chandelier at a prop house with crystals similar to the shape of the Gimme Brow tubes. I affixed the tubes onto the crystals with butyl so that they could easily be removed (in the shot she grabs one of the tubes off the chandelier). I'm so pleased with how this turned out. Claire really is a genius and this was such a cool concept.
The vanity set up was so much fun. I used pieces from mine and Claire's personal collections and also purchased some pink powder puffs, feathers, and satin fabric for lots of texture and visual interest. I can't think of a commercial I'd be a better fit for and I'm so grateful I was able to share my creativity and learn so much on this set.